Summer Temperatures on the Rise at BoundheatAFTERDARK.COM
27 June 2017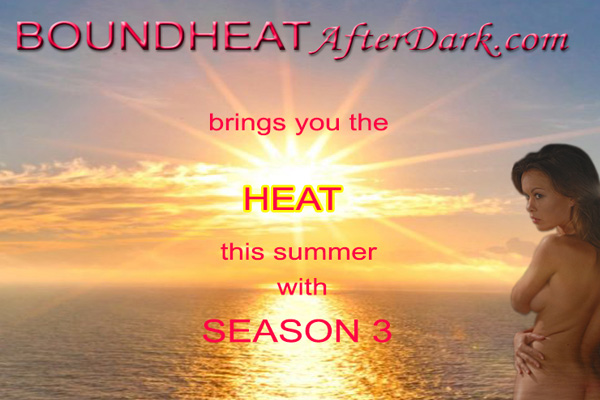 Summer is upon us and we have New releases to add to the heat beginning June 24

Sophie is in big demand, we have more Sophie now available conveniently in episodic form.

Head on over to our sister site BoundheatAfterDark.com

First, Register, then Verify Email from the link sent to you to Activate Account and then check out the New Season 3
If you do not receive the Activation email within a few minutes after Registration please check your spam folder or bulk mail folder.

New Season 3 - Episodes 1 and 2 are released now, followed by New episodes to be released each week.
All episodes priced individually, each approximately 30 minutes in length.

Season 3 features EXTENDED scenes of the very best scenes from Submission of Sophie plus some never before seen footage in some episodes
and each episode is Hotter and More Explicit. Sophie is sure to cause a Temperature rise this summer!
Those customers who purchased the HD version of The Submission of Sophie check your Email (inbox, bulk mail folder, spam folder) because we have special savings for you

Also at BoundheatAfterDark.com all episodes of Season 1 and Season 2 onSale now to kick off your summer viewing,
Don't hesitate to check those episodes out also, theSale will end soon.

We are off to the studio on production shooting now 2 more feature length films.
Our office staff will be away the next few weeks but we will be checking email remotely.
Please do allow a couple of extra days for replies.

All of us at Boundheat and BoundheatAfterDark wish you a wonderful summer!